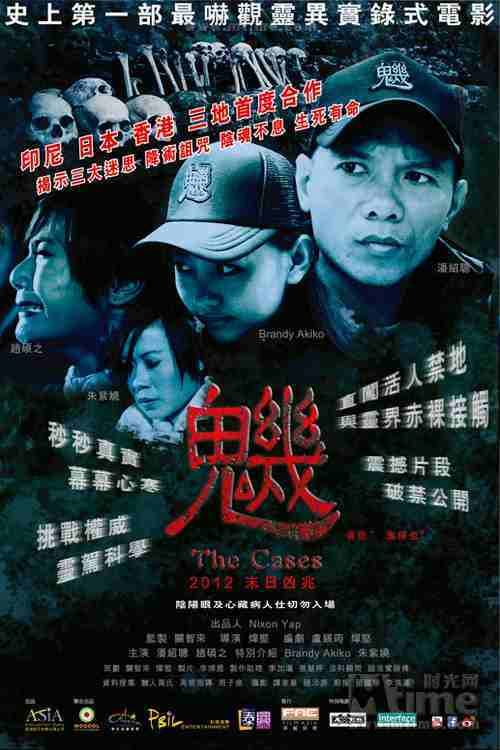 A.K.A: 魕 (粤音:祈 "鬼俗也)
LINK: http://www.beyondhollywood.com/category/the-cases-2012-movie/
Cast: Edmond Poon, Wylie Chiu, Brandy Akiko, Khloe Chu
Directed: Allen Wei
Genre: Horror , Fantasy
Runtime: 01:26:19 (h:m:s)
Country: Hong Kong
Language: Cantonese
Subtitles: ENGLISH .idx.sub
Plot:
The Cases's original film title, a Chinese character meaning the "worship of ghosts and gods", perhaps better illustrates what the movie is all about. Hong Kong supernatural specialist Edmond Poon leads actress Wylie Chiu, singer Khloe Chu, and Malaysian model Brandy Akiko to boldly go where no sane man has gone before – some of the most infamous "forbidden places" in Hong Kong, Tokyo, and Bali (Indonesia) – in this Category-III shocker. Supported on their spooky journey by several Southeast Asian exorcists and witchcraft experts, the courageous crew makes close encounters with the supernatural world to get first-hand, never-before-seen documentary footage that offers a rare glimpse into the occult occurrences and inexplicable incidents that have so far defied scientific explanation.

◎译  名:魕
◎片  名:The Cases
◎年  代:2012
◎国  家:中国香港
◎类  别:灵异纪录电影
◎语  言:粤语
◎字  幕:繁简英
◎IMDB链接:N/A
◎影片格式:MKV
◎影片大小:1.43 GB
◎导演:炜坚
◎主演:潘绍聪 赵硕之
◎内容简介
印尼勾魂降、美容降、月经迷人降、深山乱葬岗、深夜山间招灵。日本木乃伊酒店、东金市Love Hotel、太子酒店无头骑士、平将门怨灵传说、新小岩自杀车站、树海自杀森林、八王子墓地灵探、坂桥区自杀屋邨灵探。香港MTR 死亡凶兆(1986年地铁少女跳轨,尸体失踪真相) 、深入了解一楼一凤利用和合法招客、Regal Hotel 无主孤魂索命个案、秘密Shadow Team组织、大埔凤坑村灵探、众名星奇异经历。
"魕"片由主持人潘绍聪带领下,到香港、印尼(峇里岛) 、日本(东京)一带发掘各种灵异,鬼神事件及奇风异俗,其中有多段珍贵片断首度暴光,令人不寒而栗。
"魕"片集合香港、马来西亚艺人协助拍摄,有潘绍聪、赵硕之、朱紫娆 、 Brandy Akiko林诗枝(马来西亚),更邀请到印尼第二大降头师Pak Mangku及泰国驱鬼师阿赞甩及赵浩鸶师傅(泰国法术)更担当"魕"电影顾问,提供宝贵意见。


◎下載地址(Download links):
2空可互补
[RG]
http://rapidgator.net/file/44385137/The.Cases.2012..part1.rar.html
http://rapidgator.net/file/44387091/The.Cases.2012..part2.rar.html
http://rapidgator.net/file/44384874/The.Cases.2012..part3.rar.html
[ULT]
http://www.ultramegabit.com/file/details/vn1qAPkrFso
http://www.ultramegabit.com/file/details/8YgJS8udgMo
http://www.ultramegabit.com/file/details/yvhcc4anhSI